How billing works
New accounts start on a free 30-day trial. Upgrade to a paid plan whenever you wish - your new plan will start immediately and any remaining free trial days will end. If you do not upgrade within 30 days, your account will switch to the Free plan.
Paid plans
Sirv offers a variety of price plans to suit businesses from startups to multinational corporations.
Choose your paid Sirv plan from your Sirv account. Pay either monthly or yearly - annual plans receive a discount equivalent to 1 month free.
High transfer plans
If you require a large amount of bandwidth and only a small amount of storage, a High Transfer plan might be more suitable for you. These plans are not yet available within your Sirv control panel, so contact Sirv support to ask about these plans.
Custom plans
We can also tailor a custom plan if you have specific requirements for: number of users, sub-accounts, custom domains, data transfer, storage or API usage. Please describe your requirements or arrange a call with the Sirv customer success team.
Sub-accounts
Sirv also offers a shared billing plan which permits you to have many accounts paid by a single regular invoice. This is a great solution for digital agencies with many clients, organizations with many divisions or companies needing separate accounts for different environments. Learn more about master and sub-accounts.
Payment and currency
The typical payment method is credit/debit card. Once you have entered your card details and chosen a price plan, your card will be charged at 3am UTC the following day.
Credit/Debit card

All major credit/debit cards are accepted, including Visa, Mastercard, American Express, Discover and Maestro.
Credit card payments are billed in US Dollars. If your card currency is not USD, your bank will convert the USD amount to your local currency.
Bank/Wire transfer
Alternatively, you may pay by bank transfer for annual billing plans that exceed $500 per year.
The currency of your invoice will be determined by your location:
GBP - if your billing country is the UK
EUR - if your billing country is in the Eurozone
USD - if your billing country is elsewhere in the world
Please contact Sirv support if you'd like to switch to yearly bank payments.
Invoices
Invoices will be emailed to all Owner and Billing users (see Users) at 03:00 UTC, if your card was successfully charged.
Invoices can also be sent to additional email addresses known as "Billing contacts", without adding them as a user:

Invoices can also be downloaded from your Billing page.
Subscription renewal
Your subscription will automatically renew each month or year. To end your subscription, switch to the Free plan or close your account (see cancellation).
Failed payment
If payment fails, the system will retry your card each night at 03:00 UTC until successful payment has been received, then you will receive your invoice by email.
Payment failure notifications will be emailed to all Owner and Billing users after 7, 14 and 28 days of non-payment. If payment fails for 30 days, your account will become frozen.
Updating your card
If you enter a new card, the system will attempt to charge it at 03:00 UTC the following morning.
Alternatively, click 'Pay now' on your Billing page to pay immediately. A confirmation email will be sent once your card has been successfully charged.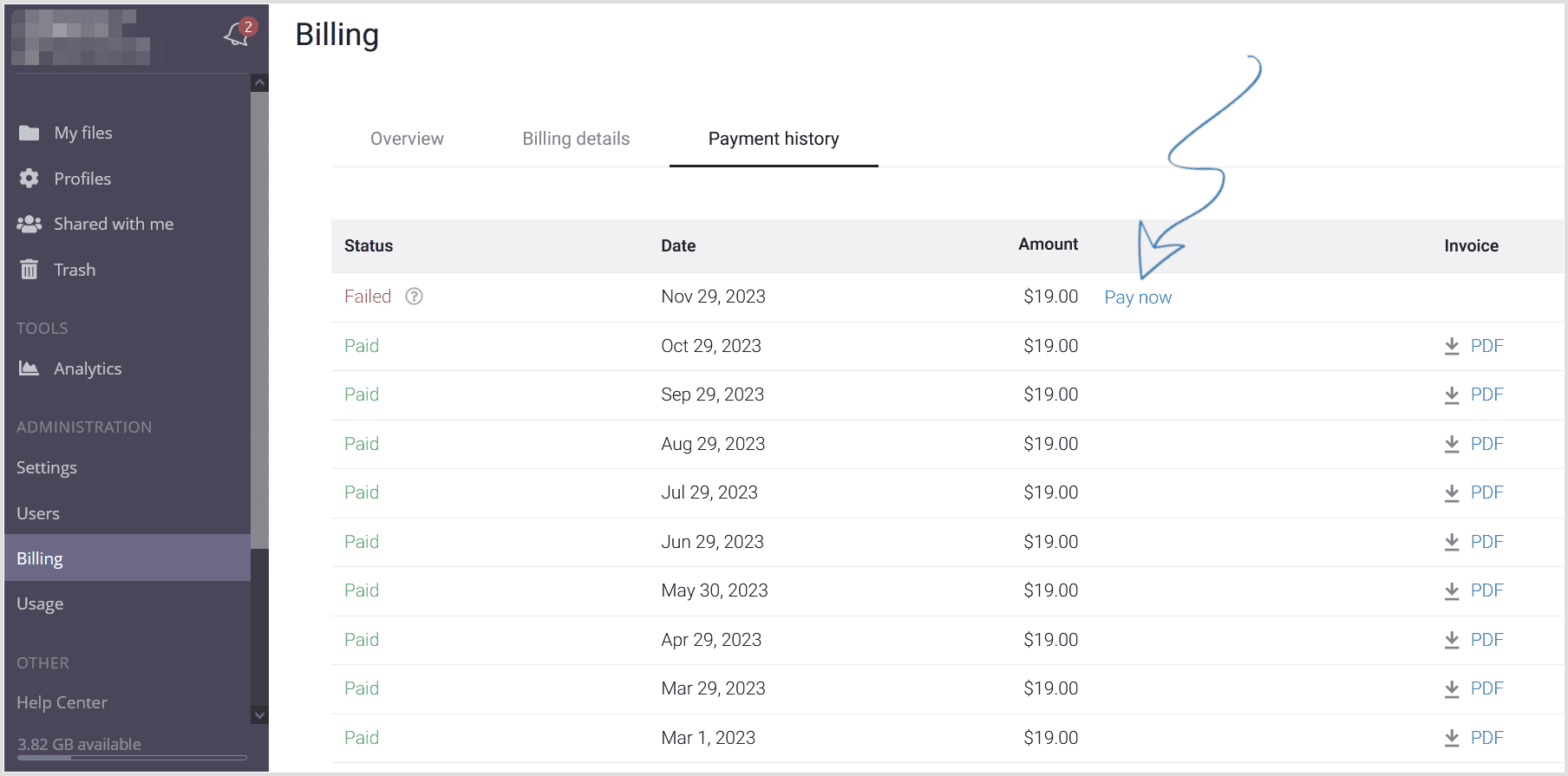 Upgrade or downgrade
You can change your plan at any time. Your new plan will start immediately when you upgrade or downgrade.
All remaining days from your old plan will be credited to your new invoice and a new full period (month or year) will commence.
Your card will be charged at 03:00 UTC and an invoice will be sent by email once payment has been received.
Cancellation or downgrade to Free
To cancel your Sirv subscription, you can either switch to the Free plan or permanently close your account by clicking the red Close account link.
To switch to the Free plan, delete sufficient files so that your account uses less than 500 MB of storage. Your last 2 months of data transfer should be less than 2 GB per month.
If you cancel a paid plan, you will receive a credit for future Sirv usage, equivalent to the value of all unused days. Credits do not expire, so you can use the funds towards any future project. Refunds are not provided.
Purchase orders
Invoices are issued without requiring a purchase order (PO). If your finance team requires a purchase order to be displayed on the invoice, the Enterprise plan permits the creation of custom invoices with PO numbers. It also permits invoices to be submitted through your invoice management system, if your organization requires that. Please contact the Sirv customer success team with your requirements.